Editing User Fields in Joomla & K2
Tutorial by Max Olson
01.30.2013
User Fields
Function
User fields allow you to add users and edit their permissions so they can access and edit your website.
Adding and Editing Joomla Users
In order to add new users, select "Users" => "User Manager" => "Add New User" from the top menu bar.
You will now see a list of account details where you can enter the name, login name, password, and email address for your new user (displayed below in red).

If you leave the password blank, a random one will be generated and sent to the user.

Below the "account details" are the "assigned user groups". This is where you assign a user group for your user, which will specify what kind of user they are and what kind of permissions they have. (displayed below in green).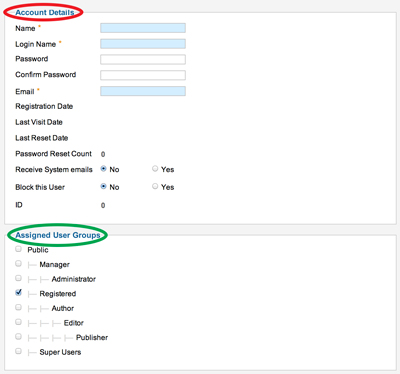 After selecting specific fields, select the orange save button in the top right.
Note On User Groups and Global Configuration
If you are unsure what each user group entails, exit the "User Manger: Edit Profile" page by clicking the red close button.
In the top menu bar, select "Site" => "Global Configuration". You should now see a list of user group dropdowns. Here you can view the permissions of each user group and edit these permissions as well. For security reasons, we recommend that you do not edit the permisisons unless you speak with your developer/designer.
Users In K2
After creating users in Joomla, we can now use K2 to add details about each user.
Select "Components" => "K2" =>"Users" in the top menu bar.
You should now see a listing of users. Once you've selected a user, fields will appear where user details can be entered, such as gender, description, user image, URL, and notes.
A quick way to edit user information is to select the "Edit Joomla User" button (displayed below in red). This will redirect you to the initial list of user fields we discussed earlier.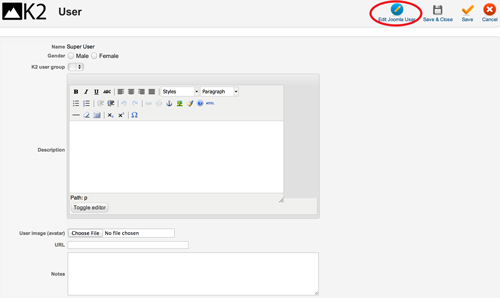 You have now created a new user who can login to the administration end using their new username and password.